Reprotec Girls 7-a-side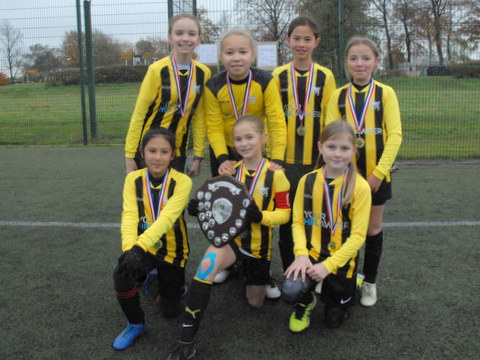 Despite never scoring more than one goal in any of their six matches but on the other hand by not conceding a single goal throughout the tournament, Edwalton Primary School won the Nottinghamshire Girls 7-a-side County title at Sutton Lawn.
Seven champion schools from the Districts of Nottinghamshire came together to play in a round robin league format with each team playing each other with a total of six games for each school.
Arnold View from Gedling and Southwark, representing the Nottingham City Association, both began with solid victories recording 2-0 and 4-0 wins respectively against Redlands from Bassetlaw and Berry Hill representing the Mansfield District and appeared to perhaps be front runners for the title. Arnold View however then lost their second match 1-0 to Edwalton whilst Southwark managed a 1-0 win over Hillside from the Kirkby & District Association. Barnby Road from the Newark & District Association, having drawn their first game with Hillside then scored a 1-0 win in their second match against Redlands.
From this point on in the competition, apart from a 2-0 win for Hillside over Redlands, all the rest of the fifteen games were either 1-0 wins or 0-0 draws demonstrating how competitive the morning's football was. It was Edwalton though who had the vital edge in the remainder of their games with 1-0 wins over Redlands, Berry Hill, Barnby Road, Hillside and Southwark.
Unfortunately Southwark could not maintain their early promise but two 0-0 draws with Arnold View and Barnby Road and a 1-0 win against Redlands were enough to secure them the runners up spot in the League and alongside winners Edwalton, were presented with their mementoes by Bob Young, Chairman of Nottinghamshire Schools' FA. Edwalton will now go on to represent Nottinghamshire in the Midland Regional Finals to be held in Nottingham in March 2020.
| | | | | | |
| --- | --- | --- | --- | --- | --- |
| | P | F | A | GD | PTS |
| EDWALTON | 6 | 6 | 0 | +6 | 18 |
| SOUTHWARK | 6 | 6 | 1 | +5 | 11 |
| HILLSIDE | 6 | 4 | 2 | +2 | 10 |
| BARNBY ROAD | 6 | 2 | 1 | +2 | 9 |
| ARNOLD VIEW | 6 | 2 | 2 | = | 6 |
| BERRY HILL | 6 | 0 | 7 | -7 | 2 |
| REDLANDS | 6 | 0 | 7 | -7 | 1 |